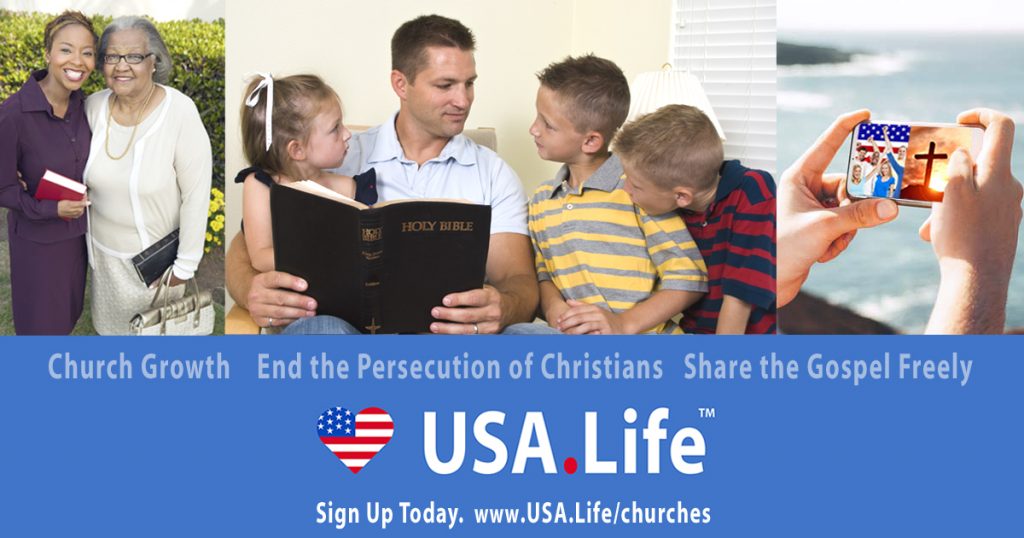 USA.Life Is the #1 Conservative Facebook Alternative
The Ministry answer to Facebook and Twitter censorship
Steps for Success
Would you like church members and visitors to interact freely with you, without being harassed for having Christian beliefs? USA.Life is the new pro-Christian and pro-America social network giving churches freedom to share the Gospel of Jesus Christ without censorship, and privacy.
USA.Life is the answer to Facebook and Twitter censoring Christians, churches and the Gospel of Jesus Christ.
1) Get Your Church or Ministry Page
Churches, ministries and public figures should set up a Page, because Pages have unlimitted Likes.
If you are a church, Bible stody group, worship team or public figure, then add one or more Pages to your Personal Account. A church administrator should set up this Page for churches. Your Personal Account that you get when you join USA.Life can have up to 10,000 Friends, so a ministry Page with unlimitted Likes is what you want to use. Pages are linked to your Personal Account.
To add a ministry Page on USA.Life:
Create your Personal Account. If you don't yet have an account, create your free personal account.
Write your first Page post. This could be a welcome message or mission statement.
2) Share Your Affiliate Link to Get Auto-Likes
To help you grow your ministry following fast, USA.Life has a powerful tool that gives your Page an auto-like when people sign up using your affiliate link. To get your auto-Like link, first make sure your Page is created. Then select the 3 white dots on the top right when logged in to USA.Life. Then select "General Setting". Then "My Affiliates". Get the link for the ministry Page you want to share.
Add the USA.Life icon to your church or ministry website and emails with the affiliate code for that Page. The USA.Life graphics can be found at: https://USA.Life/tools
Invite your church or ministry followers.

Share your Affiliate Link on emails, Facebook, Twitter, your website and other places.
Add the "Like us on USA.Life" graphic to your website.

Link this graphic with your USA.Life auto-like link to your desired Page.

Example: Send an email invitation to your congregation, Bible study or ministry email List to LIKE you on USA.Life. You could say:

Our ministry joined USA.Life social network to have freedom to share the Gospel without Big Tech censorship and to have privacy. Join us at www.USA.Life. Create your free personal account. Next, use the search to find us. Then select us in the search results to go to our Page. Next, select LIKE to follow us and get our updates.
Tip 1: Use the "Like us on USA.Life" graphic in your email.
Tip 2: Use the auto-like link, so when people join USA.Life from your link they will automatically Like your Page.

In addition, you can get advertising credit when people buy a Pro Membership when using your auto-Like link to sign up.
3) Post Daily
Share your ministry news, photos, videos and events regularly on USA.Life to generate interest and to build your following. When you post 1 to 7 times per day your followers will get what they need.
Be patient. Just as it took time on Facebook, it takes effort now to build your USA.Life following. But the sooner you start the faster you will get results. Another growth tip is to reply to comments on your posts.
4) Become a Pro Member to Save Money on Boosts
USA.Life offers Pro Membership which gives you bundled disounted boosts, which is a great value for gaining new followers. This is available on the 1/2 year, year and Life Time Pro Memberships. As a Pro Member you boost your posts for a one time fee and reach more people than just those who Like you. See plans for details. The account buying the Pro Membshp should be the account you post from. Everyone can become a Pro Member. Sign up here.
How to Boost as a Pro Member: After you make a post, choose the Boost option in the Post dropdown menu "v". Also, go to your Pages and Press Boost to boost your Page(s) with more people. A Pro Membership is a powerful tool to grow fast.
Build Ministry Connections

The next step is to decide what groups you want. On USA.Life groups can be Public or Private depending upon what you would like to accomplish.
Private groups are invitation only. Your church can have a pastoral staff, worship team, prayer, Bible study and other private groups. These groups can help with setting agendas, meeting needs and save time.
Public groups are open to everyone and can be used for prayer, teaching and common interests.
More Tips to Grow
Other church and ministry growth tips are to:
Share Links of Your Posts on websites and emails.
Embed USA.Life Posts to Your ministry website(s). To do this Select Share after posting. Then choose embed and copy the code to your WordPress website or news website.
Advertise on USA.Life.
When you advertise, use a Benefit and a Call to Action.Example: If you love ___, then Click and Like <YOUR PAGE NAME>.
Congratulations! Following these steps will help your ministry Page reach more people and attain your goals.
Administration and Teamwork: You can assign one or more administrators to manage your USA.Life Page(s) and Group(s). They can make posts, manage and advertise. Only the account that bought the Pro Membership can boost.
Visit the USA.Life Help Center to learn more.