Share, Connect and Grow!
USA.Life is the answer to Facebook and Twitter censoring Conservatives, Christians and Liberty.
Welcome. Get your free account today.
Join USA.Life and get these benefits.
The new place where Conservatives and Christians are connecting and sharing.
Report: USA.Life Ranked Higher Than Twitter, Parler, Gab, Instagram, Telegram, MeWe, CloutHub, TikTok in daily site time per user (4/21).
Highest quality Conservative, Christian and Patriotic community
Family friendly
Founded by Conservative Silicon Valley and Patriotic Christian leader
Public Figures, Businesses, Churches & Organizations Follow These Steps
1. Get your Official Page
……. 1a. Create your personal account HERE.
…………..  1. Go to https://USA.Life and Click Create New Account
……. ……. 2. Over the next few screens enter your information until you see the timeline.
…….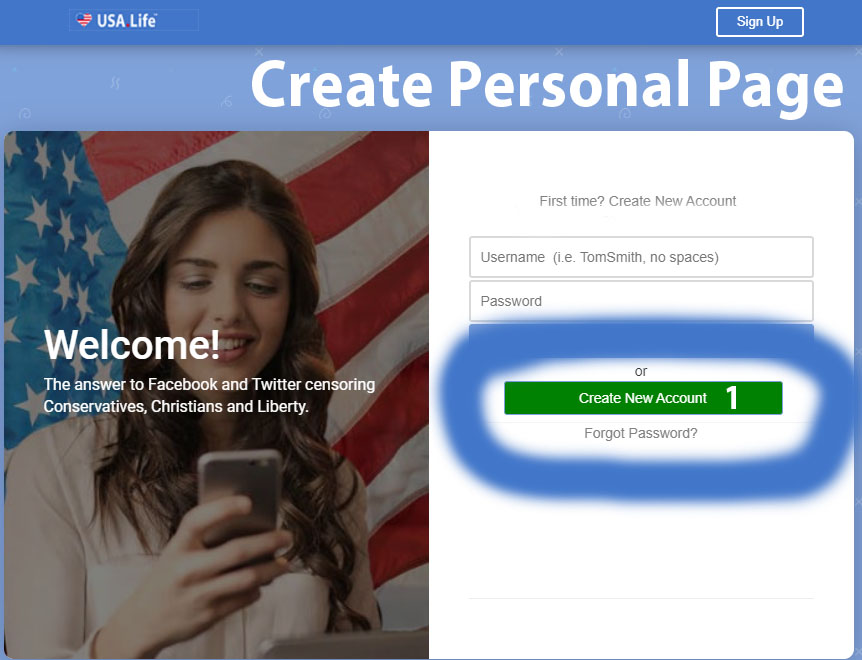 ……. 1b. Create your Official Page (after creating your personal page above)
…………..  1. Click (+)
……. ……. 2. Click Create Page – On the next page enter your Page information
…….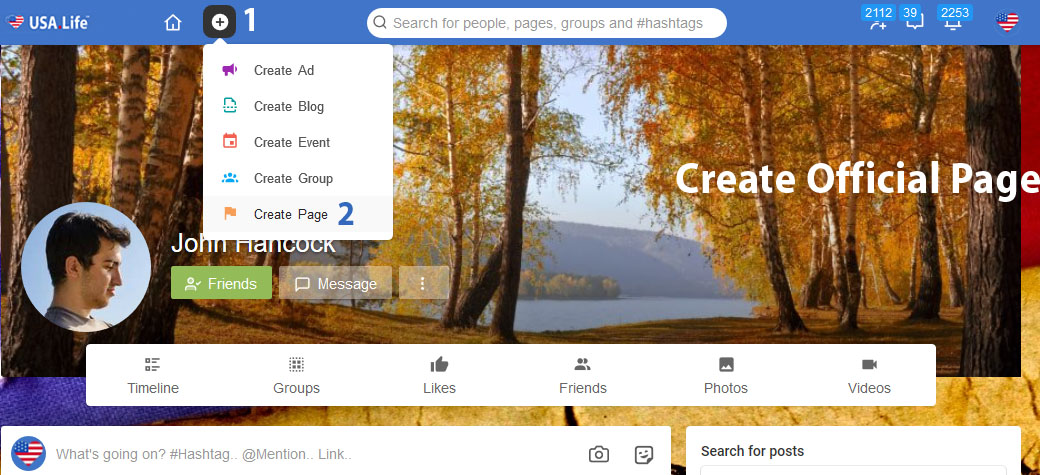 2. Post often on your Official Page to engage and grow your followers
….. Note: Use your Official Page for your followers (Likes) not your personal page that is designed for personal Friends.
3. Grow Your Followers by Sharing Your Official Page's Auto-Like Link
Grow your Official Page faster with your Auto-Like link, so people auto-Like you when they sign up with your link. This helps you build your following fast! Here is how: 1) Click your profile picture in the blue navigation bar on the top right, 2) Click General Settings, 3) Click Earnings, 4) Click My Affiliates and 5) Copy your Official Page link and email this link to your friends, or post on websites, Facebook, Twitter…
TIP: Organizations, public figures and churches should use the above auto-Like link to get your members on USA.Life. Invite your followers/members multiple times to make sure everyone Likes your Official Page and is connected.
4. Increase Your Likes with USA.Life Graphics
Add the "Like Us on USA.Life" graphics to your webpage, emails and social media accounts and link them to your Official Page's Auto-Like link from Step 3.
Get graphics here: https://w.usa.life/usa-life-tools/

5. Reach More People: Get optional Pro Membership for Discounted Boosts and to be featured as a Pro Member
Open to all users – everyone gets a free account, but you can upgrade to Pro
After you receive Pro Membership status:
Boost Posts – After making a post, as a Pro Member you can Boost that post.  To Boost a post, select that Post's dropdown menu on the top right of the Post — it looks like a "v" — and press Boost to boost a post you wish to send out wider to the site.
Boost Your Official Page – Another benefit of being a Pro Member is to gain free advertising by clicking the "Boost Page" link located under your Page's cover photo.  That will advertise your page to the USA.Life online community.