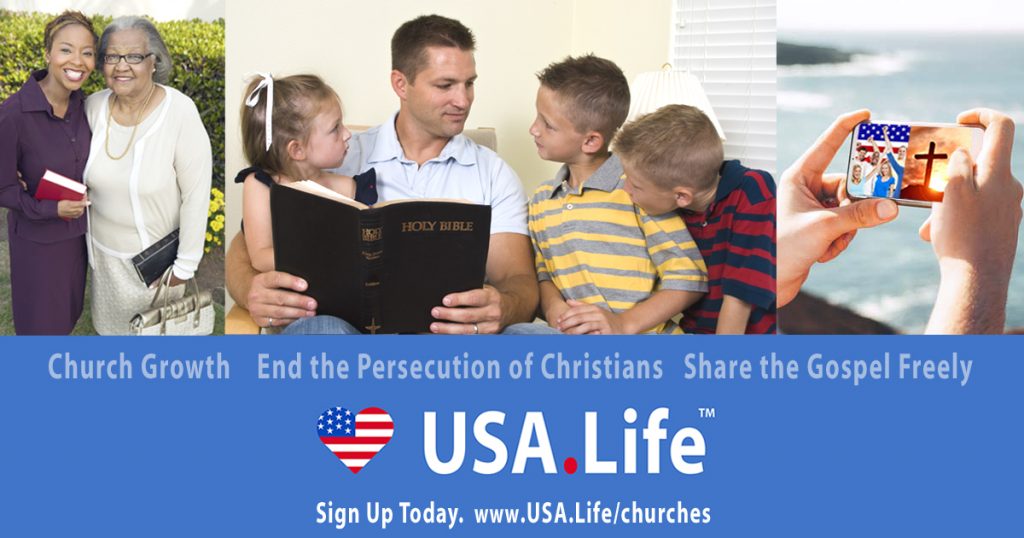 Limited Time Bonus: Sign up today and get a Free pro Membership and up to $50 Free Advertising*
Would you like church members and visitors to interact freely with you, without being harassed for having Christian beliefs? USA.Life is the new pro-Christian and pro-America social network giving churches freedom and privacy.
USA.Life is the answer to Facebook and Twitter censoring Christians, churches and the Gospel of Jesus Christ.
Set Up Your Church or Ministry Account
To get your church or ministry on USA.Life, follow these 5 steps:
Create your church Page. A ministry Page gives you unlimited followers and is created from your personal account. Where as, your personal page is limited to 5,000 friends. Your photos as a background give a welcoming feel.
Share your first church post. This could be a welcome message, mission statement or dedication to God.
Invite your church members.

Add USA.Life to your bulletin and make an announcement. For example,

Our church has joined USA.Life social network to freely share the Gospel and to grow. USA.Life is the Facebook replacement.
To join us on USA.Life, create your free personal account at www.USA.Life. Next, use the search to find <YOUR CHURCH NAME>. Select our church in the search results to go to our church Page. Then select LIKE to follow us and get updates.

Send an Email invitation to church members, with the above information. As a special help, use the auto-like.
Add a USA.Life link to your website.

Get the "Like us on USA.Life" graphic
Link this graphic with your auto-like link

Share your teachings, news and events regularly on USA.Life to generate interest and to build your following.
Congratulations. Your church now has the freedom to share the Gospel without censorship. Your members have privacy too.
Limited Time Bonus
When you sign your church up today, you get both a Free pro-Membership and up to $50 Free advertising credit.*
To get these bonuses:
Let USA.Life know you have completed steps 1 to 5 above so you can get your pro-Membership and a verified account.
In addition, when you add 5 church posts and get 10 Likes on your church page, you will get a $25 advertising credit.
After you get 10 church posts and 50 Likes on your church page, then you get an extra $25 advertising credit ($50 total).
Terms: Valid for churches located in the United States of America only. For the free Pro-membership, your church or ministry must be of a certain size depending on ministry type. Must be verified by USA.Life. Advertising credit can only be used on your church page. Approval is at USA.Life's discretion. 
Auto-Likes and Referral Bonus
USA.Life has a powerful tool that gives your church an auto-like for your church page when people sign up using your referral link. In addition, your church can get an advertising credit when people buy a pro membership. Details (To get your auto-Like link that gives an auto-Like for everyone who signs up for USA.Life who uses your code, select the 3 white dots on the top right when logged in. Then select My Affiliates.)
Build Church Connections with Ministry Groups.

The next step is to decide what groups you want. On USA.Life groups can be Public or Private depending upon what you would like to accomplish.
Private groups are invitation only. Your church can have a pastoral staff, worship team, prayer, Bible study and other private groups. These groups can help with setting agendas, meeting needs and save time.
Public groups are open to everyone and can be used for prayer, teaching and common interests.
Experience Church Growth.
A key way to reach more people is to let them know about your ministries. For a small cost, you can increase your followers. To help you grow USA.Life provides:
Cost effective advertising
Boosts of your church Page and Posts
Administration and Teamwork.
You can assign one or more administrators to manage your USA.Life church Page. They can make posts, manage groups, advertise and make boosts.
Learn More
Visit the Help Center to learn more about using USA.Life.